Listen
Story
this story could begin in many places but I guess the beginning is common practise, so let's do that.
Picture this: On a cold spring day in 1996, an eleven year old boy – me – bought Bill Champlin's "Single" album during a school trip to Örnsköldsvik, a small town in northern Sweden. My older brothers had indoctrinated me with Westcoast music since I came into this world so I kinda knew what I was doing. What I didn't know, was what impact this purchase would have on me. The CD was a Japanese import, mind you, and cost me all my pocket money. A classmate had to bail me out when it was time to buy lunch but how I enjoyed the bus ride home with that David Foster-produced masterpiece in my earphones. "Yo' Mama never taught you the rules" and so on. I was in music heaven. From that day on, I was a massive Bill Champlin fan and bought everything I could get my hands on: the solo stuff, Sons of Champlin, Chicago, session work – well, everything. I taped homemade posters of Bill all over my room and soon thereafter I even made a fan website dedicated to his illustrious career. Youthful enthusiasm, indeed. The short version is that I just loved his music, from top to bottom. I still do.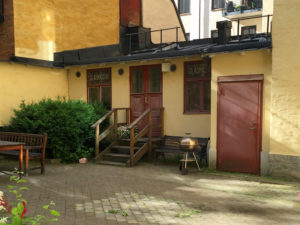 A couple of years ago, I rented a little writer's cabin in the middle of Stockholm, Sweden. The cabin, located in a courtyard on Kungsholmen, was an old glaziery from the 1800's but the days of cutting glass were long gone when I arrived there. The cabin didn't have much in it; a small kitchen, a downbeat sofa and, most importantly, a grand piano that sounded really great. I found that my studio apartment at the time didn't spark much inspiration so it was nice to get away and be creative for a while, even for just one night a week. That's where I wrote "Monotony".
I arranged it in Logic and gave it the big ol' MIDI treatment and just like that, it sounded like something you'd hear at the local acupuncturist. It just lacked life so to cite Ray Parker Jr., "Who Ya Gonna Call"?
I grew up in a musical household. My dad, now retired, was the town's music teacher and is an extraordinary singer, pianist, flutist, accordionist, you name it, he does it. He inspired us children to pick up an instrument at an early age and I, being the "autumn leaf" of the brotherhood, quickly learned that music and Ski-Doo snowmobiles was religion (I bought a Ski-Doo quite late in my life but that embarrassment is now long forgotten). For "Monotony", I wanted them all on the song. I wanted it to be a family affair. Sure enough, this plan came to fruition and from that moment on, the song became a real labour of love.
So, a quick rundown of the family credits: it's daddy Christer on flute, Mattias on trumpet, Fredrik on bass and, finally, the Jonsssonette's: Kristoffer, Simon and Philip on backing vocals. My mom Birgitta and wife Jana brought a ton of positive vibes, as always, so in that regard, they're on it too. Not to forget, Mikael Granberg Sandlund came in with his big basson and just nailed it. While not on paper, Mikael is like family. From there, I got in touch with a bunch of other great players but I'll get to them soon.
When it was time to cut the vocals, my wife and I lived in Berlin, Germany. We rented a one-room-apartment with a great view over Arkonaplatz, just a stone's throw away from Mauerpark. That's pretty much where the Berlin wall once divided the city. Our landlord was a dramatist and lived next door, so it didn't feel like a very good idea to disturb his peace of mind with my bawling. I looked online and found this place in Neukölln, fittingly called Noize Fabrik. They rented out a small production studio but I didn't realize just how small it was until I got there. It was more of a wardrobe than a studio and I'm not talking about Elizabeth Taylor's wardrobe here. It was tiny. More like a box. A tiny little box. Something a wing clipped parrot could live in and still be miserable. Anyway, I squeezed myself in and started singing. It soon became painfully clear that the box lacked air-conditioning. Just perfect. An "On Air" situation had suddenly become a "No Air" situation. One verse in, I almost passed out because, well, I couldn't BREATH and not surprisingly, I wasn't exactly feeling it. Even the vocals sounded claustrophobic. When I got home, I listened through the takes and to my surprise, it actually didn't sound quite as bad as I had expected. Still, it called for some edge. I thought to myself: "Man, Bill Champlin would kill singing this" and imagined his voice on the second verse. If you don't already know it, Bill is the master of second verses. He establishes the melody on the first verse and then just takes the second verse to God knows where. That's what's so cool about his singing. He takes the music to new places.
I can be a bit slow sometimes. I often think long and hard before I say or do something, maybe it's the northman in me, I don't know. But as soon as the thought of Bill Champlin joining me on "Monotony" appeared, I just couldn't get it out of my head. A duet. With Bill. Talk about something for the bucket list. On one hand, the thought seemed preposterous. Asking this Billboard topping, two-time Grammy winning music legend to sing with me is like a monkey with a tennis racket asking John McEnroe to play double. On the other hand, it was a really appealing idea, no question about that. Having met and corresponded with Bill over the years, I knew what sweet man he is so I painted the picture before me and figured: OK, what's the worst thing that could happen here? He could say "no" but then at least I tried. So I mustered up some courage and, without my usual second-guessing, flat out asked him. Just like that. It wasn't until afterwards that I realized that I, in that moment, was living out the message of the song. Don't overthink everything. Do what your heart tells you to do.
And the angles blew their trumpets and Bill said yes.
OMG.
THIS guy:
A dream come true. Had I known this when I was 11, listening to "Single" on that bus ride home, I would have peed my pants. Really, I think I would have. I was knocked out and just starred at that e-mail. A week or two later, Bill sent his vocal stems to me and the vocals just blew my mind. THAT was what the song was missing. A little Bill Champlin, the best singer in the world, in my book. I still pinch myself. He even did a way cool vocal arrangement that you can hear during the ending sax solo.
Oh yeah, the sax solo.
So now we have my family AND Bill Champlin on the same song. Encouraged by this dream team, I asked Brandon Fields (George Benson, Earth Wind & Fire, Ray Charles), one of my favorite sax players, if he could play a sax solo on the final chorus. Well, he did it and HOW he did it. Just awesome.
I could go on forever about all the wonderful musicians that are playing on "Monotony" – I think it's around 20 people – but I'll try to summarize, as I've already written half a novel about this ditty:
Besides father and sons, Bill and Brandon, it's Phil Robertson on drums, who played on my last track "A Little Denial". On percussion, we have Daniel Sadownick (Steely Dan, Michael Brecker, Norah Jones). Session giant and Grammy winner Brent Mason (Alan Jackson, Dolly Parton, Blake Shelton) plays guitar and just how cool is that? Pianist Scott Wilkie is behind the grand piano and the Rhodes. Ed Roth of California Transit Authority and a bunch of others great projects (Annie Lennox, Peter Frampton, Paul Rodgers) lends his chops on upright piano and Hammond organ. The incomparable John Lee Sanders (Tower of Power, Donald Fagen, Stevie Wonder) joins in on the backing vocals. Playing trumpet, it's Simon Gardner (Stevie Wonder, Paul McCartney, Frank Sinatra – his resume is just riiidiculous) as well as Simon Plötzender. Trombone duty is handled by Klaus Magnet and finally, Lorenz Spritzendorfer's on the sax.
This song was recorded before "A Little Denial" so it was the first full production I did by myself. I usually just sketch a demo in Logic and leave it at that. So when it was time to mix this thing, I needed someone to literally save me. I think there were around 200 tracks and it wasn't an easy task getting it all together. I looked at some of my favorite records in terms of how the mix sounded and got in touch with the common denominator and one of the best and nicest in the business, Steve Sykes (Al Jarreau, Dusty Springfield, Brenda Russell). He did an incredible job and to put it mildly, this song owes him a lot. Finally, Robert Hadley mastered it. Mentored by the great Doug Sax, Robert has worked with artists such as The Eagles, Pink Floyd, Joe Cocker and the list goes on. He knows his way around those knobs.
Before I go I want to add one last thing (no, I'm not paid by the letter). If you listen closely to the lyrics, you'll hear that I mention "Sisyphus" on the bridge. The mention of this Greek myth is a salute to singer/songwriter/guitarist extraordinaire Dawayne Bailey, who was with Chicago during the 80's and 90's. He wrote a great song for Chicago called "Stone of Sisyphus" and I just wanted to get that in there. Dawayne's phenomenal, so check out his website and dive into the career of a seriously cool musician and creative soul.
OK, that's it. "Monotony". Not very monotonous to make it, though. A real learning experience and it holds a special place in my heart for many reasons. I hope you'll like it. Enjoy and talk soon, Viktor
Credits
Monotony
Music and lyrics: Viktor Jakob-Jonsson
Viktor Jakob-Jonsson
Music, lyrics, production, arrangements, lead vocals, backing vocal and keyboards
Bill Champlin
Lead vocals, backing vocals and backing vocal arrangement (during sax solo)
Brandon Fields
Saxophone solo
Phil Robertson
Drums
Daniel Sadownick
Percussion
Brent Mason
Guitar
Fredrik Jonsson
Bass
Ed Roth
Upright piano and hammond organ
Scott Wilkie
Grand piano and rhodes
Mattias Jonsson
Trumpet
Simon Gardner
Trumpet
Simon Plötzeneder
Trumpet
Klaus Magnet
Trombone
Lorenz Spritzendorfer
Saxophone
Christer Jonsson
Flute
Mikael Granberg Sandlund
Bassoon
Kristoffer Jonsson
Backing vocals
Simon Jonsson
Backing vocals
Philip Granlund Jonsson
Backing vocals
John Lee Sanders
Backing vocals
Steve Sykes
Mixing
Robert Hadley
Mastering
Lyrics
Monotony
Feel the fear and do it
Not a whole lot to it
We all have to put it on the line
Every now and then and get to it
But you're still searching for a title
To the symphony you carry within
All while the melody is fading away
Into the what could have been
You were born into the worrying kind
We are more than a few and it's a weight on the mind
I know you're gonna make it happen this time
You'll make it this time
Leave it all behind
See what you will find
If you think some passion will harm you
Then let me alarm you: it won't
But monotony will probably kill, yes it will
Leave it all behind
See what you will find
Monotony is probably in for the kill
I can feel it coming
Right down to the drumming
It's a revolution of a soul
Who's finally overcoming
Embrace the freedom of believing
That it's all gonna work out in in the end
There are gonna be days when you believe it
Days when you might have to pretend
Shallow water rarely swallows you whole
So get your feet wet
Nothing you control
You're gonna get there
I know you'll get there this time
Leave it all behind
See what you will find
If you think some passion will harm you
Then let me alarm you: it won't
But monotony will probably kill, yes it will
Leave it all behind
See what you will find
Monotony is probably in for the kill
The weight of the world isn't yours to bear
What a beautiful morning
Like Sisyphus you're always there
Can't you hear how it's calling?
It's time to let the feelings lead the way now
It's time to let the feelings lead the way, lead the way, lead the way
Oh, you gotta leave
See what you will find
If you think some passion will harm you
Then let me alarm you: it won't
But monotony will probably kill
Leave it all behind and see what you will find
Do you think that passion will harm you? It won't
But monotony will probably kill, yes it will
See what you will find
Leave it all behind
Monotony is probably in for the kill
Video